Travelling with a Caravan or Motorhome to France
Travelling with a caravan or motorhome from England to France gives you the freedom to go wherever you want, without the added cost of paying for a hotel!
France has plenty of caravan and campsites and it couldn't be easier to take your caravan or motorhome on one of our ferries. Why not drive to the idyllic South of France for some unrivalled sunny beaches around Marseille and Nice? Or head to the beautiful West Coast destinations of La Rochelle and Bordeaux to the heart of French wine country. Wherever you go, you're sure to find something to enjoy.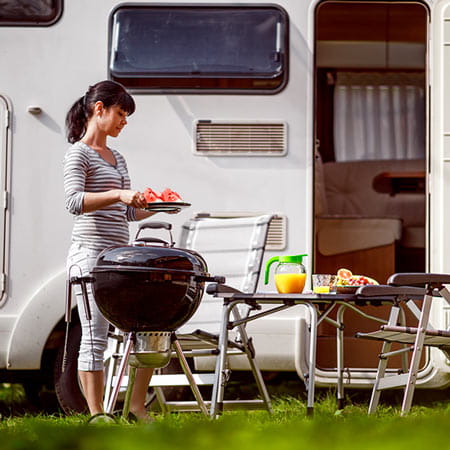 Make sure you select the right option for your vehicle when making your booking, including the right size.
For example, you'll need to include the extra length and height of your caravan attached to your car.
It's a good idea to double check before you set off that you're covered by travel and breakdown insurance for driving with a caravan or motorhome in Europe.
You should also make sure that all the vehicles you're travelling with have had a full service.
When you arrive at the port, follow the signs to the 'vehicles with reservations' lane.
You'll need your passport and booking number to hand for Passport Control and check-in.
Don't worry if you're not sure where to go, our friendly staff will always be around to help you out.
They'll let you know which lane you need to be in for boarding and then will direct you on board the ship and to your parking space.
Top tip: make a note of which area you park in by noting the colour of the staircase you use to get up to the passenger deck.This will make it quicker and easier to find your vehicle at the end of the crossing!
As the ferry approaches Calais, an announcement will be made asking customers to return to their vehicles to prepare to disembark.
Head back down via the same colour staircase or lift you came up and get back in your vehicle, but don't turn your engine on until you are told to do so.
Our staff will direct you off the ship when it's safe.
All you need to do now is go through French Passport Control and you're ready to start your adventure.
One of the benefits of travelling with a caravan or motorhome is that you can take as much luggage as you can fit in your vehicle, meaning you have no restrictions on the amount you pack.
If you buy a lot of things in our onboard shop and you're doing a round trip then you can request for it to be taken to your car for you.
When driving in France you are required to have a European Driving Kit, which includes the following items:
Reflective jackets for each occupant of the vehicle
GB sticker - (Drivers need to display a GB sticker to the rear of the vehicle and trailer, even if the number plates include the GB identifier under the EU logo. Vehicles registered in Great Britain or Northern Ireland don't need to display a GB sticker to drive in the Republic of Ireland.
From 28 September 2021, the distinguishing mark, (or national identifier), displayed on vehicles registered in the United Kingdom that are driven abroad will change from GB to UK. This means that from 28 September vehicles registered in the UK must display the letters "UK" when driven abroad (excluding the Republic of Ireland). The identifier can be incorporated in vehicle number plates (along with the Union flag) or as a separate sticker.
Vehicle Registration Document (V5C), or if the vehicle is rented or leased a Vehicle on Hire Certificate VE103B which can be obtained from the company who you leased or rented the vehicle from. Your vehicle could be seized if you are unable to prove that you have the owners permission to take the vehicle abroad.
Breathalyser/alcohol test (recommended but not a mandatory)
Spare bulbs (recommended but not a mandatory)
Snow chains (if visiting in the winter in some areas)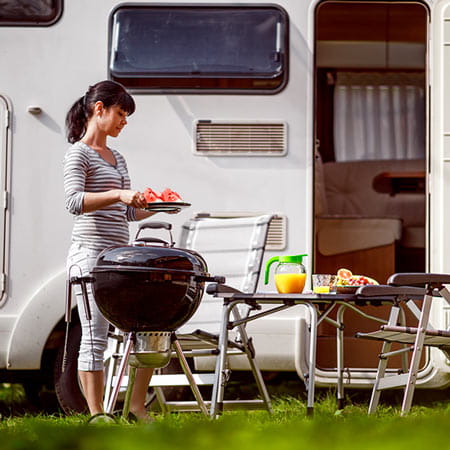 Need help ?
View our Frequently Asked Questions before travelling with P&O Ferries.
Help Centre
Contact us